German Participants
German Aerospace Center - Earth Observation Center
The Earth Observation Center (EOC) - that consists of the German Remote Sensing Data Center (DFD) and the Remote Sensing Technology Institute (IMF) - is the core institute of DLR's earth observation activities.
The German Remote Sensing Data Center (DFD) is engaged in research, product development and providing services based on earth observation data from aircraft and satellite platforms. Results of this work support geo-scientific and environmental research and applications as well as commercial customers and civil security needs. Research projects focus on developing methodologies for generating customized data products as well as on the assimilation of data in models. The major fields of application are land use, the environment, civil security, climate and atmosphere, and geographic information systems.
Contact:
Deutsches Zentrum für Luft- und Raumfahrt e.V. (DLR)
Earth Observation Center (EOC)
German Remote Sensing Data Center (DFD)
Oberpfaffenhofen
82234 Weßling
Phone: +49 8153 28-2802
Fax: +49 8153 28-1313
EOMAP GmbH & Co. KG
EOMAP GmbH & Co.KG bridges the gap from earth observation data to standardized map products.
Multispectral space- and airborne sensor products and integrated software solutions comprise EOMAP's core business. We equip data providers with operational product processors for satellites and offer large-area mapping with satellite and airborne sensors. EOMAP's services can be integrated with environmental monitoring, general areal explorations, and the scientific development of the latest earth observation techniques, in particular for coastal zones, inland waters, wetlands, and other areas where area wide mapping is required.
Our software processors can deliver standardized products such as suspended matter, phytoplankton, and dissolved organic material from both deep inland and coastal waters. Precise bathymetric charts and sea floor vegetation distributions can be generated for optically shallow waters.

Contact:
Castle Seefeld
Schlosshof 4a
D-82229 Seefeld
Tel.: +49 8152 9986 110
GFZ - German Research Center for Geoscience
The German Research Center for Geoscience (GFZ), Germany´s National Research Centre for Geosciences, hosts and facilitates large scale research in Geoscience, ranging from earth observing satellite missions over physics and chemistry of the earth to Geoengineering (www.gfz-potsdam.de).
The Section 5.4 Hydrology of the GFZ is specialized on flood risk research including the development of new strategies for probabilistic flood risk assessment, flood hydraulics, and the development of innovative flood damage assessment methods. Another focus is large scale (global) hydrological modelling and the assimilation of global earth observing data, e.g. GRACE gravimetric data, into the models as well as in-situ measurements, including geophysical methods, of hydrological variables.
Contact:
Deutsches GeoForschungsZentrum GFZ
Telegrafenberg
14473 Potsdam
Tel.: +49 331 288 0
LU-FI - Ludwig-Franzius-Institute for Hydraulic, Waterways and Coastal Engineering
Established in 1916, the Ludwig-Franzius-Institute for Hydraulic, Waterways and Coastal Engineering, is a long-tradition research institution at the Gottfried Wilhelm Leibniz University of Hanover/Germany and a nationally and internationally well-known partner for scientific and industrial investigations with main research fields in hydraulics, coastal, offshore and river engineering and flood risk management.
Regarding physical modeling of hydraulic questions, numerous, partly worldwide unique experimental facilities are available at FI. In addition to those classical model test facilities, computer-based modeling by use of numerical techniques has become increasingly important today and is therefore in the focus of current research activities. Through linkage of both techniques, highly complex tasks can be handled and resolved in an engineering context.
Contact:
Ludwig-Franzius-Institute for Hydraulic, Waterways and Coastal Engineering
Gottfried Wilhelm Leibniz Universität Hannover
Nienburger Straße 4
30167 Hannover
Phone: +49 (0)511.762 - 2573
Fax: +49 (0)511.762 - 4002
SEBA Hydrometrie GmbH & Co. KG
For nearly 50 years, SEBA Hydrometrie GmbH & Co. KG offers state-of-the-art measurement and monitoring systems for a wide range of requirements in the meteorology, hydrology, and hydrometry. Its technical solutions focus on water as a "hazard" (monitoring) and as a "resource" (management). As a Germany based manufacturer, it is active in more than 150 countries world-wide. SEBA Hydrometrie is a reliable partner for water authorities and international organizations such as WMO or UNDP.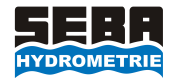 Contact:
SEBA Hydrometrie GmbH & Co. KG
Gewerbestrasse 61 A
D-87600 Kaufbeuren
Phone: +49 (0) 8341 96 48 - 0
Fax.: +49 (0) 8341 96 48 - 48
University of Wurzburg
The Department of Remote Sensing is funded by the German Aerospace Centre (DLR). All activities are based on a strong cooperation with the German Remote Sensing Data Center (DFD) of DLR. Education and research are realized within a growing network including academic and other research organizations. Besides teaching at Wuerzburg University (Diploma and B.Sc. degrees) the department contributes to the M.Sc. studies Global Change Ecology at the University of Bayreuth with several remote sensing courses.
Method developments and applications mainly concentrate on land cover, calibration and modeling. These method developments and applications are covered in the context of the thematic topics Biodiversity and Land Use, Land Surface Dynamics and Resource Management, Remote Sensing of Urban Areas and Crisis Information Systems.
Contact:
Institute of Geography and Geology
Remote Sensing Unit
Am Hubland
97074 Wuerzburg
Phone: +49 (0) 931 31-82432
www.geographie.uni-wuerzburg.de
Vietnam Participants
Center of Water Management and Climate Change (WACC)
The Center of Water Management and Climate Change (WACC) under the Vietnam National University in Ho Chi Minh City, a science and technology research organization under Vietnam National University – Ho Chi Minh, was founded in 2011 under a bi-lateral agreement between Viet Nam and the Netherlands for capacity building on water and climate change. Since the official operation in August 2012, WACC's activities include research, training and consultancy regarding water- and climate change related sectors.
The mission is to provide an advanced scientific hub of excellent cooperation environment for research and training focussing on risk management, governance and social adaptability. WACC aims to be a bridge for communication exchange among stakeholders.

Contact:
Tan Hoa Quarter
Dong Hoa Ward
Di An Town
Binh Duong Province
Ho Chi Minh
Phone: +84 08 3620 0436
Can Tho University (CTU)
Can Tho University (CTU) was established in 1966 and is constantly promoting scientific research within its institution and has made encouraging achievements in scientific research development. Notably, most of CTU research activities aim at critical issues in the development process of the Mekong Delta as well as the country of Vietnam in general. CTU's main missions are training, conducting scientific research, and transferring technology to serve the regional and national socio-economic development. In addition to its training responsibilities, CTU has actively taken part in scientific research projects, applying the advances in scientific and technological knowledge to solving problems related to science, technology, economics, culture and society in the region.
Contact:
Campus II, 3/2 streetXuan Khanh
Ninh Kieu district
Can Tho city
Vietnam
Phone: +84 292 3832 660
Southern Institute of Ecology (SIE)
The Southern Institute of Ecology (SIE) is an institute of the Vietnam Academy of Science and Technology (VAST) in Ho Chi Minh City. The SIE studies basic ecological structures and functions at multiple levels: landscape ecology, ecosystems, communities, populations, individuals and human ecology which focus sensitive ecosystems, ecological forecasting and propose appropriate using methods and restoration of ecosystems;
In addition to basic studies, SIE also conducts scientific and technological activities of ecological and biological resources; Raising awareness on biodiversity and sustainable development; Training researchers on ecology and biological resources; Carrying out international cooperation programs on ecological, biological resources and climate change.
Contact:
01 Mac Dinh Chi
Ben Nghe
Ho Chi Minh City
Phone: +84-8-3822.0052
Vietnam Southern Satellite Technology Application Center (STAC)
The Vietnam Southern Satellite Technology Application Center (STAC) is part of the Vietnam National Space Center (VNSC). The Center focuses on research, development and application of satellite technology and other related technologies such as remote sensing, GNSS, and GIS.
The tasks include satellite data management, implementation of national duties in research, development and application of satellite technology, international cooperation, training and linking to higher education institutions as well as providing scientific and technological services in the field of satellite technology and its applications.
As part of the VNSC it belongs to the Vietnam Academy of Science and Technology (VAST) in Ho Chi Minh City.
Contact:
1 Mac Dinh Chi St.
Dist. 1
Ho Chi Minh City
Phone: +84-8-38233762
An Giang University (AGU), An Giang
An Giang University was established as a public training institute in the universities of Vietnam. The university embraces the mission of a center for training human resources (multi-level and multidisciplinary) in order to meet the learning needs in An Giang province and the Mekong Delta; conducting research and applying technology to meet local socio-economic development requirements in the process of industrialization, modernization and international integration.
Contact:
No 18 Ung Van Khiem street
Dong Xuyen ward
Long Xuyen city
An Giang province
Phone: +84 296 6256565
Back Khoa University, Viet Nam National University
Bach Khoa University – Vietnam National University (Ho Chi Minh City University of Technology), established in 1957, is a state-owned and comprehensive university in Vietnam. The University has been recognized as the leading center of academy, scientific researching and technology transferring in Vietnam. It provides study programs from undergraduate level to doctorate level in various majors: Petroleum Engineering, Chemical Engineering, Industrial Management, Information Technology, Mechanical and Mechatronics Engineering, Electrical and Electronics Engineering, Civil Engineering, Transportation Engineering, Environment Technology and Management, etc.
Contact:
268 Ly Thuong Kiet Street
Ward 14
District 10
Ho Chi Minh City
Phone: +84 28 7300 4183